This knife represents for me both a return and an apex in my knife work. The return is twofold; being only my second knife in more than 15 years, and a return to working with my good friend Master-Smith Don Fogg and his inspirational work.
The apex, again for me personally, concerns both the artistic and technical. Artistically, for the last 15 years I have been attempting to move toward an aesthetic reflective of my deep immersion in the Vermont landscape. This piece, hopefully, captures a new level of that reflection; essentially I felt a new level of development, both in skill, and in bending that skill toward an imaginational vision.
Also, bound into the return and apex is the fact of this being the last pattern-welded blade to be made by Don. This blade is a superb example of combining pattern-welded steel with clay hardening to achieve subtle effects in the steel. Don pioneered this approach both with modern mono-steels and pattern steel, and this stands as a landmark achievement in the field of historical bladesmithing.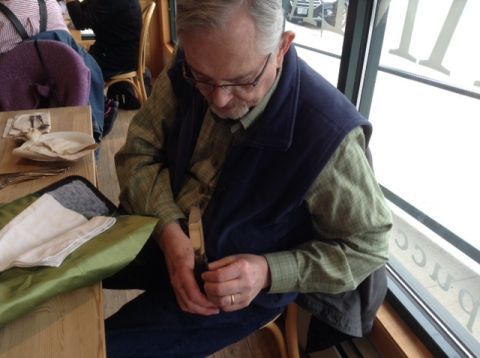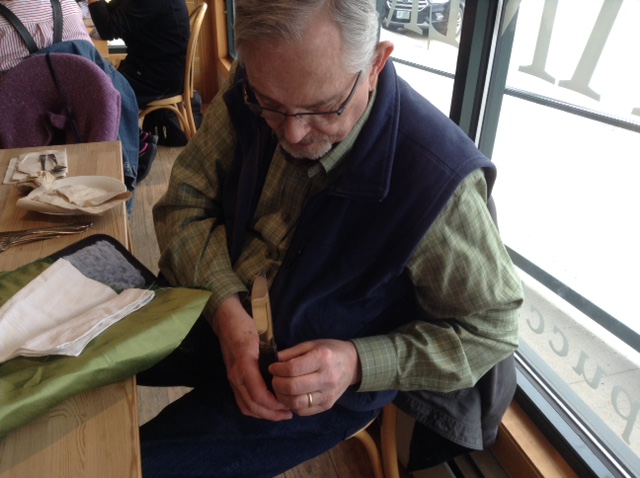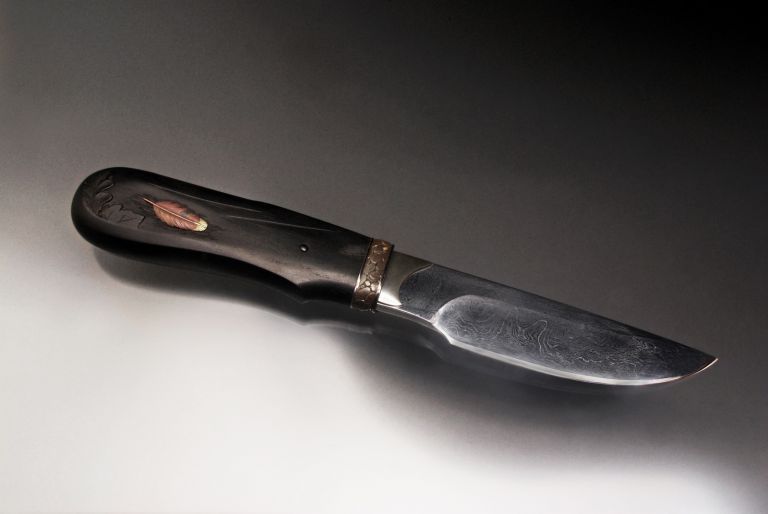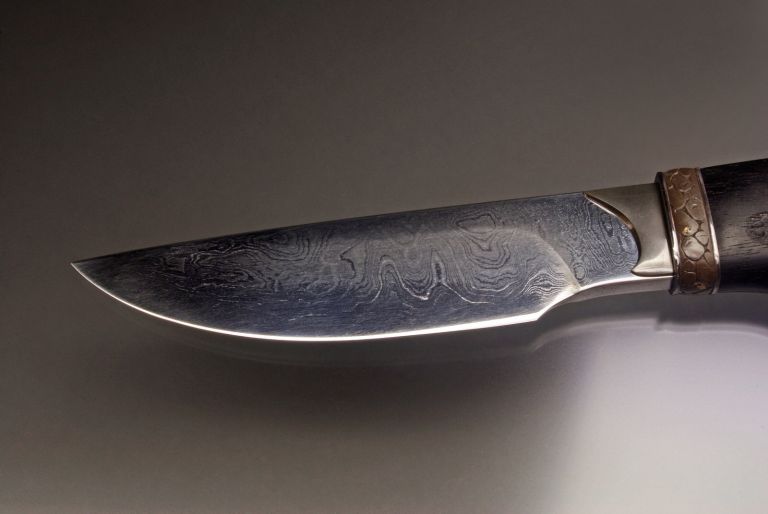 In keeping with the persona of a hunting knife, I chose to represent features of the Vermont woodlands that would be familiar to a skilled, observant woodsman. These include tracks of the Red Fox, leaves of Red Maple, Beech, and Red and White Oaks, and a feather. The feather was modeled from the Ruffed Grouse, but altered in shape and color to fit the surroundings. I chose a feather as a sign of passage, which in the case of birds, could be molting, conflict, flight or death. Feathers have such deep and subtle beauty. My wife Jean and I have a collection and I always wonder, when finding a single feather, what the story was.
The tracks, leaves and feather are all signs, marking activity and transition, the meaning of which is read by the skilled woodsman.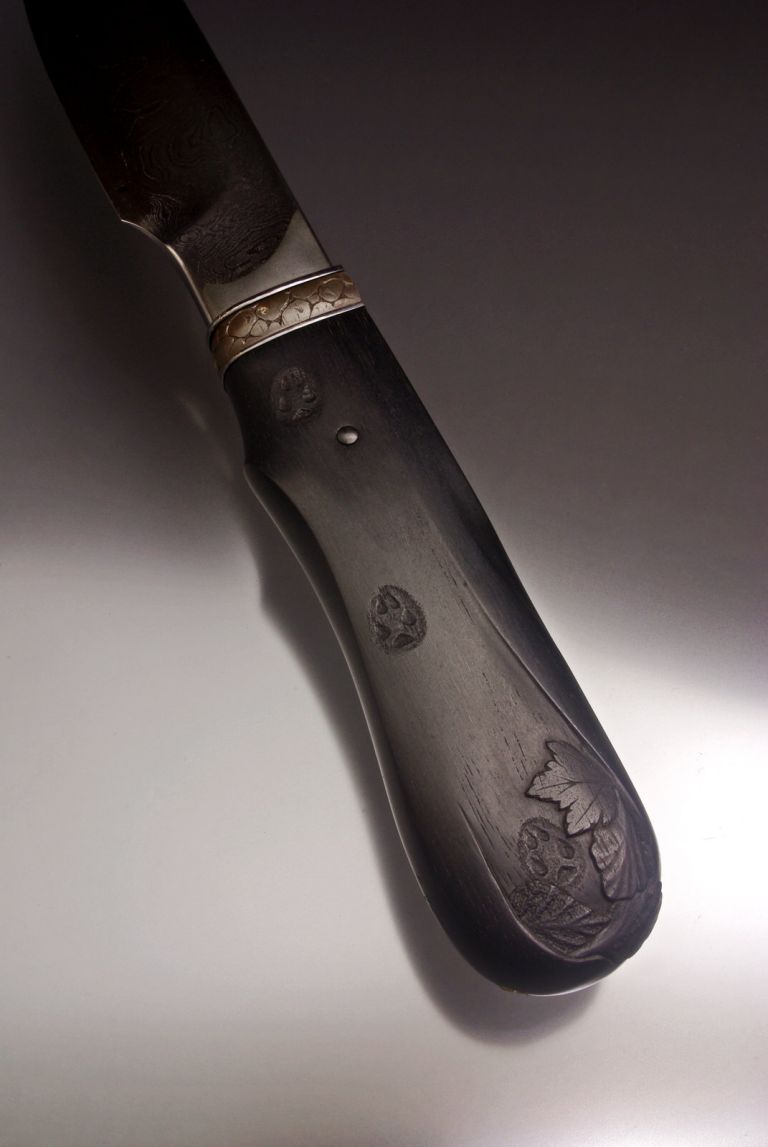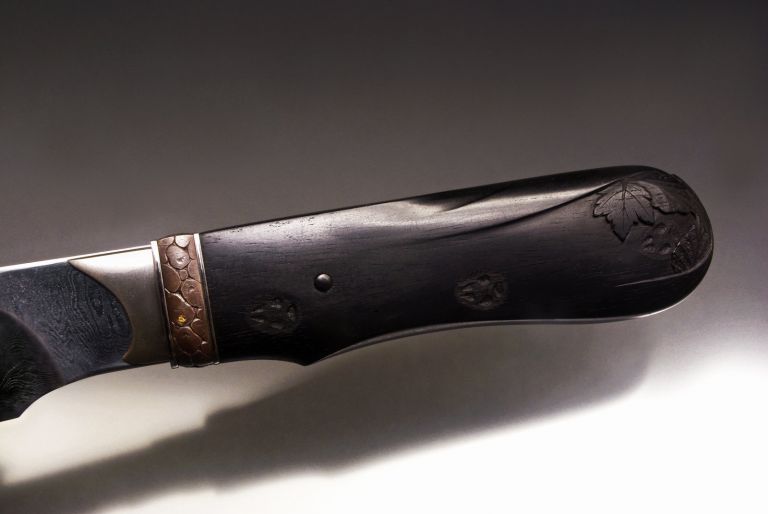 The metal feather resulted from study of the Ruffed Grouse. It's an artistic rendition varying from actual feathers in color and pattern to conform to the handle form and color. The metals are copper, 2% shibuichi (alloyed for me by Phillip Baldwin) and 22k gold. Soldering the pieces accurately on this scale required a newfound technique in which the pieces are held firmly by an armature of waste of the 2% shibuichi that surrounds the perimeter of the feather. A hint of gold solder outlines the darker shibuichi against the copper. Once soldered, engraving and relief sculpting the feather form defined the rachis. The vein details were then painstakingly engraved, each one in three steps. It was then patinated using the Japanese niage process.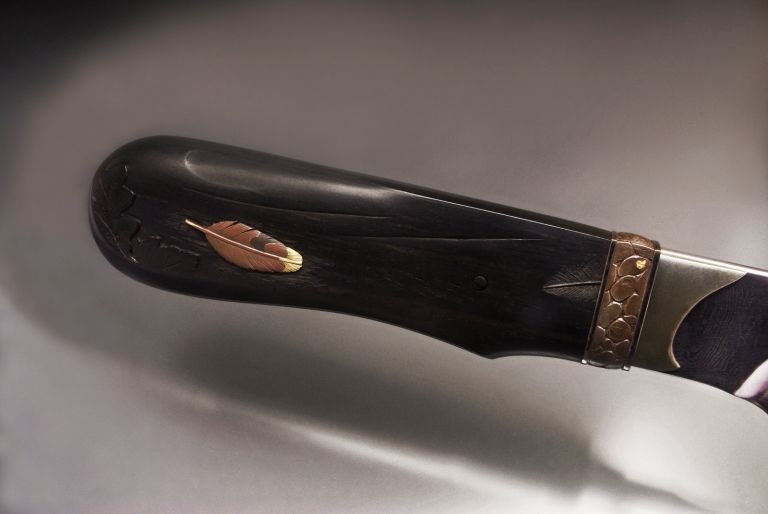 The bolster/spacer was made from British wrought-iron. It was shaped primarily by sawing and filing. It is engraved in a pine-bark scale pattern with details in 24k gold, after Kano Natsuo. The bolster top is engraved in end-grain growth rings, as though it were a piece of pine wood with bark on the side. The iron was rust patinated using a version of an old Japanese formula.
This project has been very satisfying for a number of reasons. I was touched and honored when Don gave me the blade to finish. I did not realize until the piece was nearly finished that it was his last patterned blade, which greatly enhances the meaning for me. Don is a legend in the smithing world, and rightly so. Apart from his technical innovations, he has an artistic eye, both for pattern and form, which is rarely, if ever matched. In addition, his Bladesmith's Forum stands as an unparalleled online resource for beginning and accomplished knifemakers.